Nordic Naturals ProEFA is an omega-3 (from fish oil), omega-6 (from organic borage oil), and omega-9 combination. Nordic Naturals provides EPA, DHA, and GLA, important for proper cell signaling and membrane flexibility. ProEFA is enhanced with borage oil. Rosemary extract has been added for freshness and natural lemon oil for palatability.
Benefits ProEFA®-3.6.9. liquid
Brain Function
Reducing Inflammation
Heart Health
Weigh
Fatty Liver
Asthma
Bone Health
Omega-3, omega-6 and omega-9 fatty acids are all important dietary fats. Interestingly, each one has a number of health benefits for your body.
However, it's important to get the right balance of omega-3, -6 and -9 fatty acids in your diet. An imbalance may contribute to a number of chronic diseases.
Omega-3 fats are a crucial part of human cell membranes. They also have a number of other important functions, including:
Omega-6 fatty acids are essential fatty acids. They are necessary for human health, but the body cannot make them. You have to get them through food. Along with omega-3 fatty acids, omega-6 fatty acids play a crucial role in brain function, and normal growth and development. As a type of polyunsaturated fatty acid (PUFA), omega-6s help stimulate skin and hair growth, maintain bone health, regulate metabolism, and maintain the reproductive system.GLA may actually reduce inflammation. Much of the GLA taken as a supplement is converted to a substance called DGLA that fights inflammation. Having enough of certain nutrients in the body (including magnesium, zinc, and vitamins C, B3, and B6) helps promote the conversion of GLA to DGLA.
What are the health benefits of omega-9 fatty acids?
Omega-9 fatty acids- Research has shown that omega-9 fatty acids, commonly referred to as monounsaturated fatty acids, can help reduce the risk of cardiovascular disease and stroke. Because omega-9 fatty acids have been shown to increase HDL ("good") cholesterol and decrease LDL ("bad") cholesterol, they help eliminate plaque build- up in the arteries, which causes heart attack and stroke. Omega-9 Canola and Sunflower Oils are uniquely high in monounsaturated (omega-9) fat, as well as low in saturated fat and zero trans fat.
The results of a pilot study, reported in the January/February 2005 issue of Autism-Asperger's Digest, showed beneficial effects of Nordic Naturals ProEFA on language and learning skills in children with autism and Asperger's syndrome.
Your body can greatly benefit from omega-3 and omega-6 fatty acids. These substances come from the healthy fats in your diet' but can also be taken as a dietary supplement. DHA and EPA are popular types of omega-3 fatty acids' while GLA is a common type of omega-6 fatty acid. They're great for your brain function' and they can also help relieve pain by reducing inflammation.
It's not always easy to keep your levels of essential fatty acids high enough. Since your body can't produce them naturally' it relies on your intake. Nordic Naturals' ProEFA® has plenty of DHA' EPA' and GLA to allow your brain and body to function at their best. Its formula is designed to help lift your mood and make your joints feel less achy' all with a pleasant lemon taste.
General Nutritional Support
Essential fatty acids, a part of the PUFA family (polyunsaturated fatty acid), are known as the "essential fats". Omega-3 and Omega-6 fatty acids are vital to health and can not be reproduced by the human body – they must be obtained from diet.
The Omega-3 long chain fatty acids, EPA (eicosapentaenoic acid) and DHA (docosahexaenoic acid), are found almost uniquely in foods of marine origin. It is the long chain omega-3's that the body needs to synthesize and ensure proper body function. Clinical studies in the past 30 years have regarded Omega-3 fatty acids as protective, therapeutic and essential for growth and development throughout the human lifecycle (Tadalafil).
Borage oil, an Omega-6 fatty acid derived from the plant, Borage officnalis, is the most concentrated source of GLA (gamma-linolenic acid). GLA is beneficial for skin moisture and has been popularly used by woman suffering from pre-menstrual syndrome.
Omega-3 fatty acids and GLA from Borage Oil as a combined formula may have a calming effect by increasing the amount of the body's beneficial anti-inflammatory prostaglandins of the series 1 and 3. Omega-3 fatty acids and GLA together provide optimal nutritional support and are "essential" throughout all stages of life.
Pro EFA is an Omega-3 (from fish oil) and Omega-6 (from Borage oil) combination.
Each Teaspoon provides the proper balance of EPA, DHA, and GLA, which are important for proper cell signaling and membrane flexibility. The New ProEFA formulation has been enhanced with advanced lipid stabilizing antioxidants, added vitamin E and has natural lemon oil added.
Ingredients: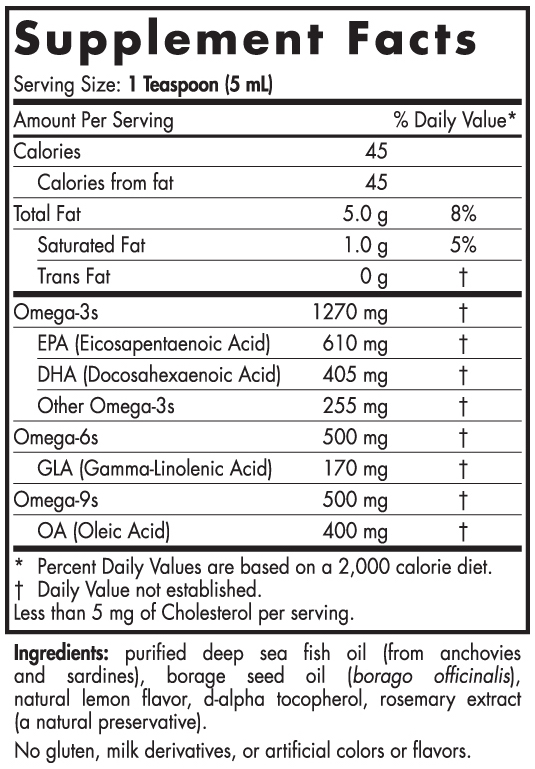 * These statements have not been evaluated by the Food and Drug Administration. This product is not intended to diagnose, treat, cure, or prevent any disease.