Proper nutrition is important to your circulatory system. NuMedica combines three professional dietary supplements for a targeted daily regimen designed to provide advanced nutrition for cardiovascular support. These supplements provide crystal-free CoQ10; magnesium lysinate glycinate chelate and di-magnesium malateto support the maintenance of blood glucose levels and vitamin B12 in the active, methylcobalamin form, essential for the synthesis of DNA.
CoQ-Clear® 100 Ubiquinone
• Patent-pending crystal-free CoQ10 for highest absorption*
• Support for cardiovascular health*
• Support for energy-based health needs*
• Refreshing citrus flavor
Mag-Plex Ultra™
• Muscle, nerve and energy support*
• Support for the maintenance of blood glucose levels*
• Featuring the highly absorbable mineral chelates, magnesium from Albion® Minerals (TRAACS®)*
Methyl B-12 HP™
• Supports healthy homocysteine levels*
• Support for a healthy nervous system*
• Featuring active methylcobalamin
CoQ-Clear 100 Ubiquinone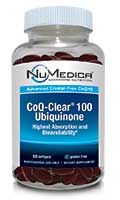 Crystal-Free for Highest Absorption and Bioavailability
Crystal free and all-natural Ubiquinone 100 mg form of CoQ10 that supports absorption and energy production at the cellular level.
The Ubiquinone formula is designed to enhance absorption of CoQ10, a substance that occurs naturally in the body. In fact, CoQ10 is found in each of the body's cells and is instrumental for energy production. Associated with a wide array of health benefits, CoQ10 can be taken in supplement form for its various antioxidant protections.
---
Mag-Plex Ultra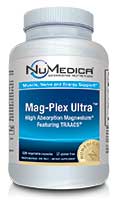 Muscle, Nerve and Energy Support
Advanced formula that contains a highly absorbable form of magnesium for muscle, nerve and energy support.
Magnesium is crucial in more than 300 enzyme-related processes that regulate the body's chemical reactions, such as protein synthesis, muscle and nerve function and the regulation of blood pressure. It is necessary for healthy bone development, as well as the synthesis of DNA and RNA. NuMedica Mag-Plex Ultra supports the body's processes by effectively preventing or treating magnesium deficiency.
---
Methyl B-12 HP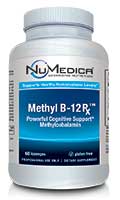 Supports Healthy Homocysteine Levels
Lozenge form and powerful natural supplement that contains vitamin B-12, which supports cognitive function and nervous system health.
Because vitamin B-12 is vital for cell division and DNA synthesis, it plays an integral role in the body, especially for cells that multiply rapidly like blood cells. NuMedica Methyl B-12 HP also supports neurological and cardiovascular system health, making it an extraordinary supplement that complements multi-type systems throughout your body.